Seattle, the Emerald City, is a vibrant and culturally rich destination that offers a plethora of attractions to explore. From iconic landmarks to natural wonders, this coastal city has it all. Whether you're a foodie, an art enthusiast, or a nature lover, Seattle has something to captivate everyone. In this article, we will take you on a virtual tour of the top must-see sights in Seattle.
Exploring the Heart of Seattle
Seattle, known for its vibrant culture and stunning landscapes, offers a plethora of attractions that will leave visitors in awe. One cannot talk about Seattle without mentioning the iconic Space Needle. Standing tall at 605 feet, this futuristic symbol of Seattle offers breathtaking 360-degree views of the city and the stunning surrounding landscapes. As you ascend to the top, you'll be greeted by a mesmerizing panorama of the city's skyline, the glistening waters of Puget Sound, and the majestic Mount Rainier in the distance. Whether you visit during the day or at night, the Space Needle is a must-visit attraction that will leave you with unforgettable memories.
No visit to Seattle is complete without experiencing the vibrant energy of Pike Place Market. This historic market, established in 1907, is a foodie's paradise. Stroll through the bustling stalls and indulge in fresh produce, seafood, delectable pastries, and artisanal crafts. Immerse yourself in the lively atmosphere as local musicians serenade passersby with their melodic tunes. As you navigate through the maze of vendors, be sure to catch a glimpse of the famous fishmongers tossing fish to entertain visitors. The vibrant colors, enticing aromas, and friendly faces make Pike Place Market a sensory delight that will awaken your taste buds and leave you craving for more.
For history buffs, a visit to Pioneer Square is a must. This neighborhood, nestled in the heart of Seattle, is home to Seattle's oldest buildings and offers a glimpse into the city's rich past. As you step onto the cobblestone streets, you'll be transported back in time, surrounded by architectural gems that have withstood the test of time. Take a guided tour or wander through the streets at your own pace, and let the stories of Seattle's early history unfold before your eyes. Learn about the Klondike Gold Rush that brought fortune seekers to the city and the Great Seattle Fire that shaped its future. Explore the underground tunnels that once served as the city's main streets and delve into the secrets that lie beneath the surface. Pioneer Square is a treasure trove of historical significance that will transport you to a bygone era.
As you explore the heart of Seattle, you'll discover a city that seamlessly blends its rich history with modern innovation. From the awe-inspiring views atop the Space Needle to the vibrant energy of Pike Place Market and the historical charm of Pioneer Square, Seattle offers a diverse range of experiences that will captivate your senses and leave you yearning for more. So, embark on this urban adventure and uncover the hidden gems that make Seattle a truly unique destination.
Seattle's Natural Wonders
A short drive from the city will take you to Mount Rainier National Park, a breathtaking natural wonder. This active volcano offers stunning vistas, picturesque hiking trails, and the chance to witness the diverse flora and fauna of the Pacific Northwest. Whether you choose to hike, climb, or simply soak in the beauty, a visit to Mount Rainier should be at the top of your Seattle itinerary.
For a dose of tranquility, head to Discovery Park, Seattle's largest city park. This sprawling 534-acre park encompasses forests, beaches, meadows, and offers panoramic views of the city skyline. Take a leisurely walk along the trails, enjoy a picnic by the waterfront, or spot various bird species that call this park their home.
If you're a nature lover with a penchant for botanical beauty, the Washington Park Arboretum is a must-visit destination. This 230-acre urban oasis is home to a diverse collection of plants from around the world. Take a leisurely stroll through the gardens, explore the Japanese Garden, or hop on a kayak to enjoy the peaceful waters of Lake Washington.
Cultural Highlights of Seattle
Art enthusiasts will be captivated by the renowned Seattle Art Museum. With an extensive collection of contemporary and traditional artworks, this museum showcases local and international talents. From paintings to sculptures and everything in between, the Seattle Art Museum offers a delightful journey through the world of art.
For a unique experience, head to the Museum of Pop Culture. This interactive museum celebrates the popular culture of the past and present. From music and film to video games and science fiction, the Museum of Pop Culture offers a fascinating glimpse into the cultural trends that have shaped our world.
If you have a curious mind, the Pacific Science Center is the place to be. This family-friendly museum offers hands-on exhibits and interactive displays that explore various scientific disciplines. From astronomy to biology, physics to technology, there's something to pique the interest of both kids and adults alike.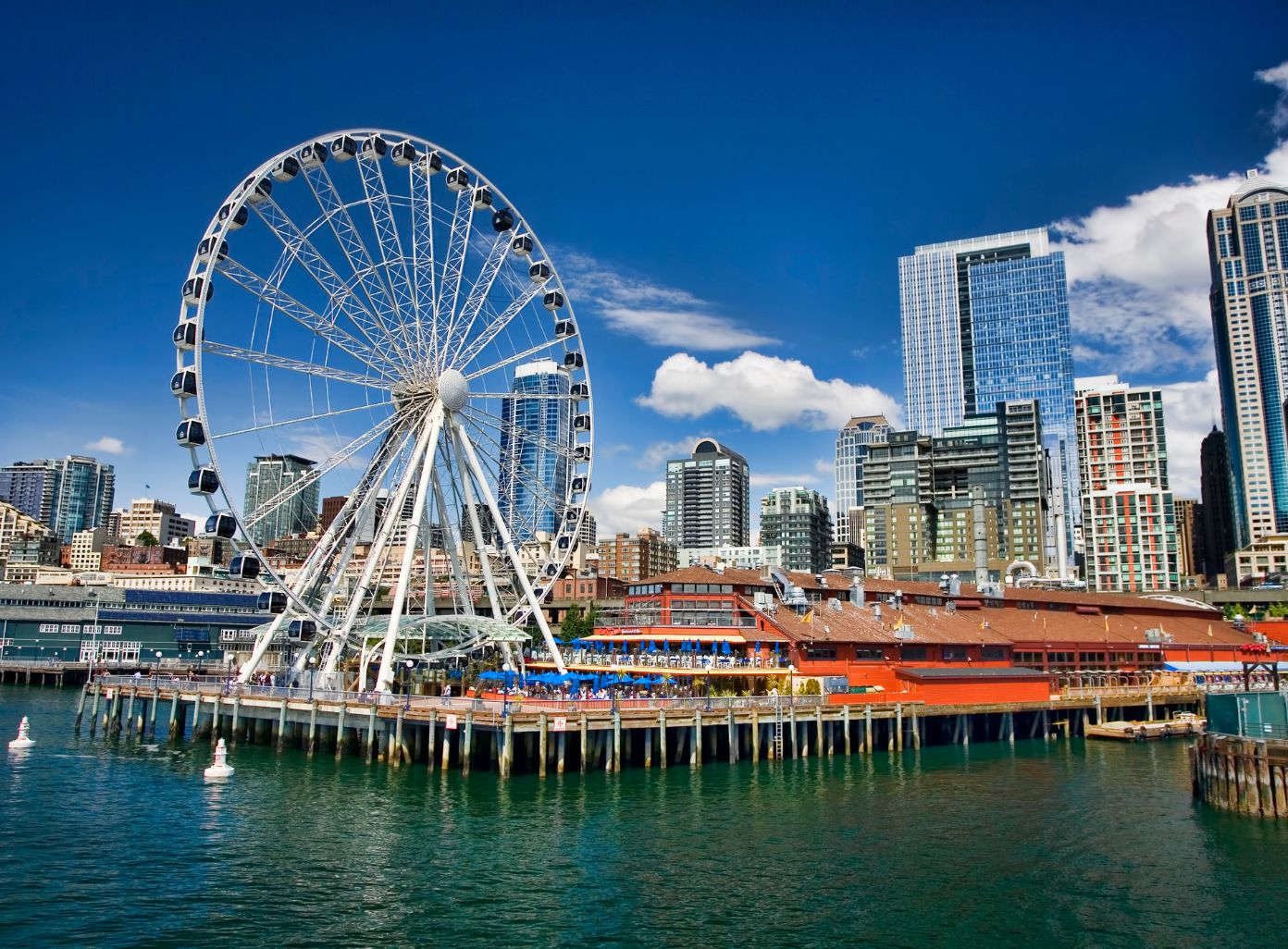 Seattle's Maritime Attractions
Dive into the wonders of marine life at the Seattle Aquarium. Situated on the picturesque Seattle waterfront, this aquarium houses a vast array of marine species, including otters, sharks, and colorful tropical fish. Attend a feeding session, touch a sea anemone, or visit the mesmerizing Underwater Dome for an up-close look at fascinating underwater ecosystems.
The scenic Seattle waterfront is a hub of activity. Take a leisurely stroll along the promenade, enjoy a delicious seafood meal, or soak in the stunning views of Elliott Bay. Visit the Olympic Sculpture Park, an outdoor sculpture museum that combines art, nature, and breathtaking waterfront vistas.
For a unique maritime experience, head to the Ballard Locks. These impressive locks connect the freshwater lakes of Washington with the Puget Sound and serve as a major transit route for ships and boats. Watch as vessels navigate through the locks, and visit the fish ladder to witness salmon making their way upstream during the spawning season.
Seattle is a city that offers a diverse range of attractions and experiences. From iconic landmarks to cultural highlights and natural wonders, there's no shortage of must-see sights in the Emerald City. So, pack your bags and embark on an unforgettable journey to discover the enchanting treasures that await in Seattle.